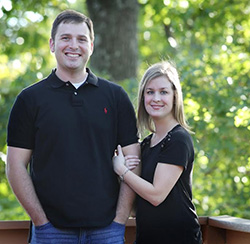 Name: Tara and Aaron
Ethnicity: Caucasian
Profession: Aaron is an Asset Strategist at a power plant.  Tara is an elementary music teacher.
Faith: Christian
Family: While we have no children, we do have a big family. Tara has two brothers and a sister and Aaron has one sister.  We have one niece and one nephew, as well as a multitude of cousins and extended family and friends.  The only thing missing is a child of our own and we welcome that with open hearts.
Hobbies: We are both musicians.   In fact, music is what first brought us together, as we crossed paths while playing with separate bands.  We continue to play music together to entertain others, for worship in church, and for our own enjoyment and entertainment.  We hope to pass on our love for music to our children.  We are big Kentucky basketball fans and love to make it to Rupp Arena for a couple games a year, if possible.  We also like to see live music when we can, and will occasionally take a trip to Nashville to see some of our favorite musicians.  We enjoy the beach, being outdoors and spending time with family.
Adoption Statement:  We believe putting a child up for adoption is one of the noblest things a person can do.  You are giving this child the greatest gift someone could ever give…the gift of life.   Adoption is the clearest example of putting another's life ahead your own and is an extremely selfless thing to do.    We would be honored to parent any child with such lineage of selflessness.  It is our utmost desire to become parents and we are very excited for that dream to become a blessing and reality.