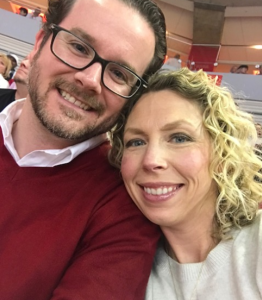 Names:  Cindy & Brian
Ethnicity:  Caucasian
Profession:  Cindy is a Medical Practice Executive and Brian is a physician.
Faith:  Christian
Family:  Although we have no children of our own, we love spending lots of time with our families and our dog, Wrigley!  We both have many nieces and nephews of all ages and we love spending time with them.  Our families are excited to embrace a new member into our family!
Pets:  We have one loveable and cuddly Cavalier Spaniel, Wrigley.
Hobbies:  Brian enjoys running, cross-fit, speaking Spanish, and cooking.  Cindy enjoys swimming, Pilates, cooking, and playing the piano.  We love to do almost anything outside together, including taking Wrigley on lots of walks in the park!  We enjoy trying new restaurants, cooking together, traveling and spending lots of time with friends and family.
Adoption Statement: 
First of all, we understand that you are making a decision which is selfless and unimaginably difficult.  We appreciate your consideration and our prayers are with you always.
Thank you for taking the time to learn more about us.  We have been married for 8 years, and since then, we have been looking forward to becoming parents.  We have come to understand that our plan isn't necessarily God's plan, but we trust Him, and we are excited and ready for adoption and can't wait for all the blessings that will bring!
In our family, we value our faith, we love each other, our family, and our friends.  We like to have fun, love to laugh, and have many experiences to share!  We are thankful each day for all God has given us and we are yearning to share our home, our love, and our lives with a child (or children)!  Above all else, we will put this child first; we will support, protect, and unconditionally love him or her.  We will teach our values of faith, family, and love for all others.  He or she will have a large support network of extended family – grandparents, aunts, uncles, cousins, and many close friends!  We want to thank you again for considering us, and we hope for the opportunity to share our lives and our love!