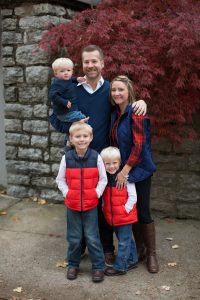 Names: Dana and Ryan
Ethnicity: Caucasian
Faith: Christian
Profession: Dana is a middle school science teacher working on her degree to become a guidance counselor. Ryan is a project manager for Cincinnati Bell.
Family: We are blessed to have 3 beautiful boys biologically but our home will not feel complete until the addition of a little girl. While Dana loves her boys to no end, she is beyond thrilled to be a mother to a daughter. We know that this little girl will be loved and cherished and will have us wrapped around her finger. We are excited for our boys to have a sister and we know that they will be wonderful big brothers.
Pets: We have a black Schnoodle named Harlow. She is a wonderful family dog and the kids love her.
Hobbies: Dana enjoys capturing moments through photography, organizing, reading and spending time with her family. Dana loves clogging, a form of dance and she teaches on Tuesdays in Grant County. Ryan enjoys playing softball and plays once a week on a coed team. Another hobby for Ryan is poker. He loves the strategic game and has won a seat to the WSOP twice.  As a family we love to spend time together playing games or traveling. On the warmer evenings we love to watch the kids play outside.
Adoption Statement:
We are the Brady Family! We want to thank you for giving us this opportunity to share more about our lives with you. We know that this will be the hardest decision you will ever encounter in your life. We believe that the adoption process is a selfless act of love and for that we honor you. We are truly grateful for you considering us to be the family for your beautiful daughter. We have been blessed to have 3 wonderful boys but our home isn't complete without a daughter. After Dana's difficult pregnancies and being advised that she should not carry any more children, she knew the direction she was meant to go. Dana has always felt like adoption was on her heart and so sitting in church in November, adoption awareness month, it was like she was moved to answer the call. Dana went home and spoke with Ryan and together we decided to pursue this journey. We reached out to Leigh at Heart to Home and was just moved by her encouraging words. We are so excited to begin this journey and we want you to know that we pray God will bless you with the direction that is meant for you and your baby. Again, we believe what you are doing is a selfless act and we think you are incredibly brave to make this decision.  We look forward to speaking with you soon. We would love to answer any questions that you may have and look forward to meeting you.