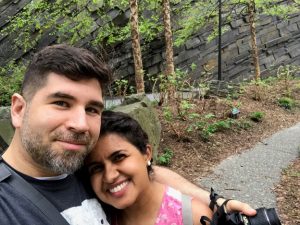 Names:  David & Mimi
Ethnicity:  White/Persian & Indian
Profession:  David is a landscape architect and Mimi works at a university
Faith:  Spiritual
Family:  David is the older brother to two sisters and a brother.  His family lives with 1.5 hours away and is very accessible.  Mimi's parents and sister live in other states so we see them a couple times per year.  We also have a network of friends in our community that support us like family so it is always growing!
Pets:  We have a great beagle mix named "Prudence".  She loves walks, especially hikes at the park.
Hobbies:  David enjoys being outdoors, gardening, playing basketball, and cooking.  Mimi loves to bake, dance, spending time with family and close friends.  Together, we love taking evening walks, weekend hikes, traveling, spending time with friends and family, and experiencing other cultures.
Adoption Statement: 
We have been married for nine years and have built a life around a foundation of shared values.  One of the values that we both share is the idea that love doesn't have to look like anything, it just has to be shared unconditionally.  That shared value led us to a decision early in our relationship that, when we were ready, we wanted to choose adoption as a way to grow our family.
While we haven't met you, we know you are facing an important decision.  We want to wish you the best in making that decision and want to offer you a promise.  We promise, if selected, to provide a warm home full of love and unconditional support.  We value education, experiences, travel, culture, and taking on the world with an open mind.