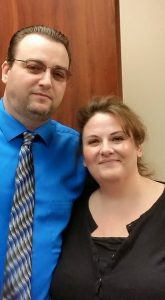 Names: Ed and Kristine
Ethnicity: Caucasian
Profession: Ed is a high School teacher and Kristine works for St Elizabeth Hospital.
Faith: Christian
Family: We currently have no children of our own.  We love being an aunt and uncle to our nieces and nephews, 10 under the age of 18!
Pets: We have two cats, Rascal and Bear, and a bearded dragon named Spike. We love animals and have raised several cats, dogs, lizards and fish.
Hobbies: We love to go on cruises during our vacations. We have been to the Jamaica, Bahamas, Nassau, and other parts of the Caribbean.  We also enjoy going to high school competitions that Ed's students compete in. We are both fans of basketball, pro football, and pro wrestling. Ed also loves fishing, comics, and going to the zoo. While Kristine likes to read, watch movies, and going to plays.
Adoption Statement: Our biggest desire in life is to be parents. We have been together for 12 years through good and bad. Ed was raised by a single mom and his 2 younger brothers until he was 13, at which point he was placed in the foster care system. He understands the importance of a stable home life for a child. Kristine was raised by both parents, along with her only brother Mike. She loved her childhood and longs for the time to share her childhood traditions with our child.