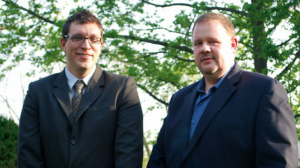 Names: Jon & Mark
Ethnicity: Caucasian
Profession: Mark works for the Kentucky State 4-H program and commutes to Lexington during the week. Mark also recently earned his PhD in Family Science. Jon works as an advertising/marketing consultant with clients like Proctor & Gamble.
Family: We have one son through adoption who is four and a happy, fun-loving boy. He is very ready for a brother or sister. We're also close with both our families, including Mark's brother, wife and daughter who is six.
Pets: We have a black lab/whippet mix named Flurry. She is a wonderful dog to have around children as she enjoys running and chasing.
Hobbies: We have a variety of interests and hobbies, including travel, cooking and fine dining. Mark loves to read, work in the yard and play superheroes with Micah. Jon tackles projects around the house, builds websites and taking Micah to the park.
Adoption Statement:
Hello! We're Jon, Mark an Micah, a loving family living in Northern Kentucky. We are looking to add to our family and share our love through adoption. During the past few years, we have married, bought a new house and welcomed our son into our home We've realized that now is the right time for us to bring another child into our family. We can't pretend to understand everything you are going through. We know that this is a difficult decision and appreciate your willingness to consider adoption for your child. This loving decision will allow us to become parents and help us realize our dreams. We won't take that trust and responsibility lightly! We can't wait to welcome a second child into our home and lives. Our house is in the suburbs of Cincinnati and we enjoy hanging out in the suburbs as well as frequent trips into the city. Our neighborhood is welcoming and safe. It's a great place to raise children If there is one thing that our home has, it's laughter. It's hard to show that in a book or through a letter but humor is one thing that's important in our lives. Adding the laughter of a another child to our house will help to make it even more a home. We both work full-time. Mark works in the Kentucky State 4-H office. Jon works at an advertising agency, primarily on Procter & Gamble products. We spend a lot our time at home – reading, watching TV, watching movies, cooking and playing with our dog. But we also love to go out with friends. We both have a strong group of supportive friends and family – including many women – who are excited about helping us be the best parents possible. Please look through the next few pages and see our life. If you decide on adoption and choose us, we look forward to meeting you and getting to know you.
Thank you! Jon + Mark + Micah