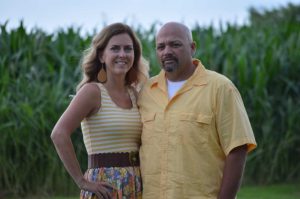 Name: Josh & Kristi
Ethnicity:  Caucasian
Faith:  Christian
Profession:  Josh is a supervisor for Public Works and the Sexton of the cemetery.  Kristi is a first-grade teacher.
Family:  We have one daughter by adoption.  Jordyn is 9 years old and very excited to be a big sister.  We are very close to our parents, siblings and their families.  Everyone is eager for our family to continue growing.
Pets:  We love animals!  We currently have a lovable Chihuahua named Lilly.
Hobbies:  Kristi enjoys baking, shopping, jogging, and crafting.  Josh enjoys grilling, jogging, and farming. Together we enjoy kayaking, swimming, spending time with family and friends and beach vacations.
Adoption Statement:  We are so in love with our future child already.  We have always wanted a large family and are thrilled to open our hearts and home again.  We have been married for 5 years. We know God's plan is to grow our family through adoption.  We find that to be a great blessing to be called to adopt. We adopted Jordyn when she was 7 and the three of us are beyond excited to make our family bigger.  We promise to love this child unconditionally. We promise to always support, to protect and advocate for him or her. We will continue to pray for you as you go through this journey.