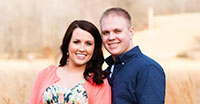 Name: Tad and Stacy
Ethnicity: Caucasian
Profession: Tad is a Quality Engineer and Stacy is a Speech Therapist in the school system.
Faith: Christian
Family: We have a three-year-old daughter who can't wait to be a big sister.  We both come from extremely supportive and involved families who are excited for us to grow our family through adoption.
Pets: We have two dogs who are great with kids and love having them around to play with!
Hobbies: We love spending time together and traveling as a family.  Our favorite place to visit is the beach.  Tad enjoys fishing, hunting, working outdoors, and watching sports.  Stacy enjoys planning and decorating for parties, reading, and exercising.
Adoption Statement: We have always known that our family would grow through adoption.  Before we were ever married, we talked about our dreams of adopting in the future.  Above all else, we know we will love this child with all our hearts and we will do everything to encourage and support his/her dreams in every way possible.