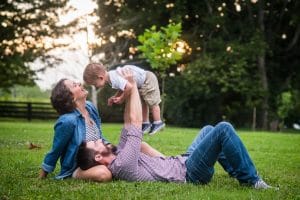 Hello there! We're Jason and Megan. That tiny guy in the middle is our son, Davy. We are so incredibly excited to be taking the first steps in this adoption journey! Thank you for taking the time to look at our profile while we tell you a little more about our lives.
The last ten years together have been full of adventure. We found our dream careers (Jason in safety management and Megan in higher education), started our mini farm, and became parents to a fun, curious, and book loving toddler. Our family spends a lot of time together outside exploring nature or taking care of our critters, but we also treasure the opportunity to have a cookout with family or game night with Megan's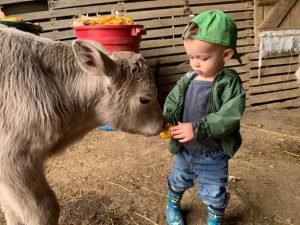 college students! We live in a tightly knit, diverse college town where we know the names of each of our half dozen neighbors and our property backs up to a 300 acre farm. Our home is a place of warmth, good food, and just enough dirt dragged in from the backyard to make it seem comfortable. Adoption has always been part of the plan for us as a family. Megan started writing letters to this very special child when she was just thirteen years old, and Jason brought it up in their first conversation about building a future together. We recognize that this path of placing your child for adoption is indescribably brave and difficult… However, please know that we are dedicated to giving both you and your child every ounce of love, support, and encouragement that we possibly can and walking each step of this journey with you.