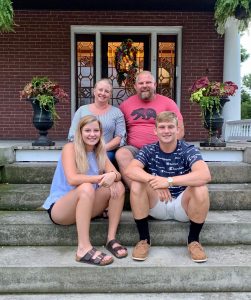 Faith:  Christian
Profession:  We are both self-employed.  We started our construction company 16 years ago and bought our gym 2 years ago.
Family: We have been married for 21 years and have 3 wonderful biological children.  Our parents and most of our family live in the same town we do.  Everyone is so excited for a new child to join our family.
Hobbies and Interest:  We love to hang out together having fun as a family. We spend time at our farm taking care of the cows and miniature pigs. In the summer months, we are often camping, spending time at the lake, or trail riding our side by side. We love to get away and take a family vacation to the beach every year. As a family, we love to be with our friends making memories to cherish. In the winter months, we love going to the high school basketball and football games, playing breakout games, and watching movies together at home.
Adoption Statement: We have tremendous love and respect for your journey. It takes great courage and strength to make such an important decision. Your thoughtfulness and dedication show the immense love you have for your child.  We have always dreamed of having a large family. We are extremely excited to be adopting and have so much love to share for this child as we expand our family. Please always know we will unconditionally love and cherish your child and we will make sure that he/she will be proud to be adopted. Thank you for taking the time to look at our profile.