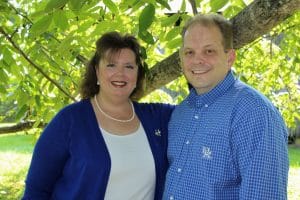 Occupation: Jeremy is a high school math teacher. Jamie-Marie taught middle school math for many years and now teaches math education classes at a local college.
Faith: We are members of a Christian church that we regularly attend.
Family: Jeremy and Jamie-Marie have been married for six years. Jeremy has a sister and a large extended family with seven aunts and uncles and fifteen first cousins. Jamie-Marie is an only child and has two aunts and uncles and two first cousins. Our parents are very excited to have a new grandchild. We love spending time with our families at picnics and family dinners. There is often corn hole and croquet at our family gatherings with lots of fun, laughter, and some great down-home cooking. We also love to play with and spoil our nephew.
Hobbies and interests: As a couple, Jeremy and Jamie-Marie love DIY projects. We enjoy going to antique and thrift stores to find things we can fix-up. Also, we love to travel. From Hawaii to Maine to visiting all the covered bridges in Kentucky, we love a great road trip. Jeremy also loves to read and work in the yard. Jamie-Marie loves to do crafts, cook, and watch college basketball.
Adoption Statement: We thank you for taking the time to read our profile. As teachers, we have been blessed to work with so many amazing children throughout the years. Our students have been our children. From attending band concerts to sporting events to musicals, we have always taken an interest in our students besides just teaching them math. We have had the honor to see so many of our students achieve their dreams and we still keep in touch with many of them. Our dream has been to have a child to love and support like we have done for so many of our students. We thank you for considering us on this difficult decision of who should parent your child. We promise to provide a home of love and laughter that is a safe and peaceful place where your child can reach his or her dreams.
With love,
Jeremy and Jamie-Marie