Occupation: John is a civil engineer. Vicki is a child psychologist.
Ethnicity: Caucasian
Faith: We are members of a Catholic church that we regularly attend.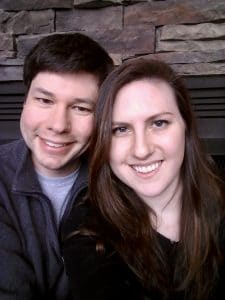 Family: Vicki and John have been together for 10 years and have been married for almost five years. We both come from a small, but close-knit family. Vicki has an older brother and an older sister. John has two younger sisters, one of which is married with two little girls. We love spending time with our nieces! They are fun, energetic, and love the idea of a new baby cousin! The new baby will be the first grandchild on Vicki's side. Vicki's parents and siblings were beyond excited to find out that we were adopting! They cannot wait for a little one to dote on!
Hobbies and interests: Vicki and John love spending time with family and friends. Usually we gather over meals, but we also enjoy getting together for game nights. As a couple, John and Vicki love dancing together. We also enjoy listening to music and going to concerts. Vicki loves spending time cooking in the kitchen, going on neighborhood walks, and listening to true crime podcasts. John enjoys model railroading, reading, and grilling food for friends and family.
Adoption Statement: Thank you so much for taking the time to consider joining our family to yours. Choosing to place your baby with another person is the ultimate test of trust, faith, and courage. While we hope you consider choosing our family, we understand that you need to make the best decision for you and your situation. We promise to respect you and honor whatever level of openness and contact that you want to have with your child and we promise to love, respect, and support you always. Please know that wherever your journey leads you, we will always consider you and your child the biggest blessing in our lives.